Do you want to be fit and strong while pregnancy? Your ultimate resolve is yoga the ancient Indian art of meditation and exercises. Yoga boosts mind and body and keeps you hassle free during pregnancy.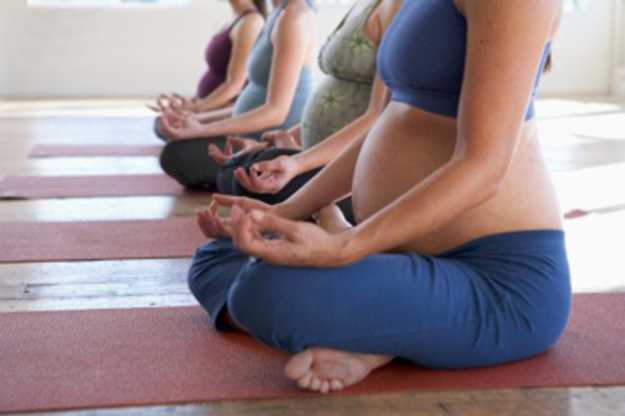 You can be in a perfect shape by practicing yoga during and post pregnancy.
What is Yoga?
Yoga is an age old Indian art of exercise and meditation with a Midas touch of holistic approach. Yoga deals both with mind and body. It treats your physical and inner ailments.
Numerous asanas and pranayams of yoga are known to have beneficial impact in pregnant ladies.
A daily yoga exercise makes your fit being and relieves you from life's stresses and tones your body at the same time. During pregnancy yoga exercise reduces the body discomfort and tones the abdominal muscles. Your body becomes flexible and onset of labor is facilitated with minimal discomfort.
We know, "Pregnancy is a kind of miracle. Especially so in that it proves that a man and woman can conspire to force God to create a new soul."
The different postures of yoga target the different parts of your body.
Top 10 Benefits of Yoga for Pregnant Woman:
Let's analyze the important benefits of yoga for mothers-to-be:
1. Blood Circulation:
Yoga exercises improve the blood circulation and lower the probability of pedal edema and water retention.
2. Lowers Anxiety:
The daily stress and anxiety is highly reduced by adopting yoga in your daily routine. It imparts proper and adequate sleep to the pregnant women.
3. Expels Harmful Toxins:
Yoga is effective in removing harmful and lethal toxins from the body. This expulsion is good for your digestion and boosting immunity.
4. Tones Up Muscles:
Yoga is indeed the best way to strengthen the bodily muscles and tone them up. This is important for pregnancy and initiation of labor in the coming times.
5. Controls Blood Pressure:
The blood pressure level and sugar levels are effectively maintained by the doing yoga exercises regularly. This is an important and crucial effect as it reduces the chances of developing diabetes and hypertension in expecting women.
6. Soothes the mind:
Yoga is tremendously effective in calming down the mind and body. The hormones and emotions are smoothened by breathing exercises.
7. Posture Improvement:
The bodily posture is improved by yogic exercises. It is effective in mitigating back problems. Gone are the spine problems with yoga that are so common during pregnancy.
8. Strengthen the Pelvic Area:
Regular exercises and yoga asanas are known to improve the strength of your pelvic region that is so widely stressed by pregnancy. Your legs and thigh become stronger and healthier. This helps the labor and eases the pain.
9. Morning Sickness:
The breathing exercises are helpful in reducing nausea and morning sickness associated with being pregnant.
10. Increases Energy and Confidence:
Yoga increases your confidences, calms your inner self and boosts your energy to a new improvised level.
A Final Word:
If you experience any discomfort, stop exercising and consult your doctor. SO rejuvenate and revive yourself with yoga exercises.
We would love to hear your thoughts and experiences of doing yoga during pregnancy. Please leave us a comment and let us know. Subscribe our RSS to receive latest pregnancy updates.