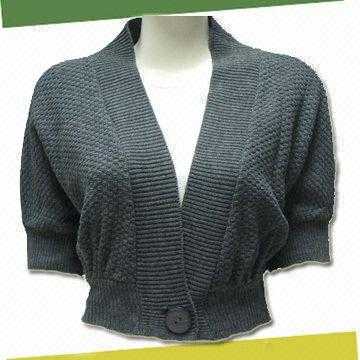 Winter is finally approaching and like any other season this year too will see lots of new trends and styles of women knitwear's. If you are amongst those who love to keep stylish wardrobe filled with various quality and stylish clothes then you must know how to have your wardrobe updated with changing trends. Style enthusiasts always update their wardrobe with the latest trends but even if you don't afford new knitwear's every season you can still keep them and wear them when their trend comes back. Winter knitwear can't be done without, it doesn't matter how far the fashion world progresses.
You can keep the old knitwear's in your attic and make room for new trendy winter knitwear's to match the latest trendy styles. Winter is that fabulous time of year when you get to wear luxurious layer upon comfy layer of the latest women's fashion for winter, winter is all about wearing what you want, with style.
You can select belted tweed shorts and team with cashmere tights, fur-lined boots and a longline cardigan for a casual but tailored look that is perfect for a relaxed office look or Saturday lunch with the girls on a cold day. If you've never understood the idea of wearing shorts with tights, in winter, and you still don't, copy the look with a pair of wool peg trousers and make sure that your crisp tailored shirt or silk blouse is tucked in, whether you choose the high-waisted or long-slung version.
Choosing knitwear as per your body line is important. If you are seriously looking how to make your perfect winter accessories work for you then following points will help you:
Pear shapes – look for structure to emphasize your slimmest point (the waist), something with a belt works well.
Petite shapes – stick to slimline capes and team with opaque tights and a short skirt or skinny jeans for a look that will emphasize your shape and not swamp it.
Athletic shapes – choose capes with a flare and shiny buttons to create a feminine shape without going overboard on the glamor and team with skinny jeans or belted shorts.
Hourglass shapes – stick to tailored capes that will flatter your curves and wear with a pencil skirt or tailored wide leg trousers to balance out the look.
The same principles apply to wearing the over-sized jumper trend successfully and make sure you choose chunky knitwear to wear with simple t-shirts and waffle or sheer versions to layer up for a glamorous winter warmer.
V-neck knitwear is something you must have to keep warm during the cooler seasons. What makes this item of clothing so great is the fact that you can easily pull it over your outfit and work on doing a layered look. Wearing a white formal shirt inside a v-neck sweater with formal trousers is a great look for the office and a lot more comfortable than a lot of other formal clothing. V-neck sweaters also look great on skirts, jeans, shorts, leggings and any other women's clothing you can think of.
Choosing womens knitwear for winter is not difficult but you should keep in mind that whatever you buy should be comfortable, warm and stylish. Simply look for the feasibility and of course its versatile uses and looks. Besides we all know that knit clothes are easy to wash and maintain. They are available in all price ranges, under various local as well as branded and designer tags, so you have a wide range of options to choose from.
Knit stuff is available in various forms of clothing, starting from stylish dresses to smart jackets to basic pullovers. They make great scarves, caps and other accessories too. Plus there are various kinds of machine as well as hand knit stuffs available for all kinds of styles starting from casual to corporate. A plain knit sweater in any basic color like white or black is in fact almost a wardrobe must have for both men and women since it can be easily worn on all occasions.
Remember these winters knitwear's should not give you a dull look but enhance your beauty and style. I would love to hear your experiences of choosing women's knitwear, please leave me a comment and let me know. Subscribe our RSS to receive latest women's fashion updates.