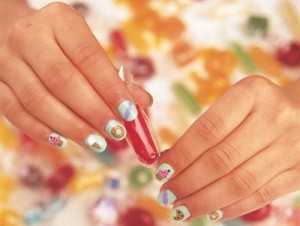 Decal, rhinestone, Stickers are not longer the rage. Fimo nail art canes are gaining more and more popularity given the fact that they enable experiment and variety to your tips. Do you like fruits on your nails or stars? They are a lot of fun given any occasion. Fimo nail art requires the use of Fimo canes which are long horizontal rubbery looking sticks with the print in the center of the stick. These canes are made of polymer clay and are not elastic. They are also available in ceramic for professionals and should only be bought in whole pieces as thickness requirement might vary from client to client. If you simple want to do something for a weekend with the girls, you can buy sliced Fimo designs also. A person requires a Fimo cane cutter to be able to slice thin slices of the design to use in nail art.
The one great advantage of Fimo nail art is that it can be used with other types of nail art like acrylic and gel to add a cute looking design to your nails. No longer are people going in for intricate designs and time consuming airbrushing appointments. Fimo canes are a great way to make your simple manicure also more creative.
The amount of designs available is numerous. If you prefer feminine designs, you have a variety of floral prints. For a dance night out, you have a kitten, stars, the skull, and crescent moon, animal prints like the leopard, tiger and much more.
For a slumber night with the gals or for a weekend, Fimo nail art done for yourself and your girlfriends is a great treat. Each one of you can give your nails a personality akin to you or match it up with your outfits. Easy to wear and easy to remove, you don't really need a pro's help unless you want them put on your gel nails or acrylics. You can even use different thickness slices to create a 3D effect.
There are no specific instructions to use Fimo nails. Just like before any other nail art, properly clean and file your nails and then apply your base coat and choose a good background color to go with the color of your design. Place you Fimo slice on your paint or with the gel if you are getting gel nails done and then cover with a top coat.
Fimo canes are easily available or at the departmental stores depending on how famous the art is in your city. Look on the Amazon and you will find a bunch of them available for a reasonable or even a very cheap price. Nail product wholesalers as well as dealers online keep them and can easily help you order your first batch.
I would love to hear your experiences of fimo nail art canes. Please leave me a comment and let me know. Don't forget to subscribe our RSS to receive latest nail art updates.